Act
Currently, we have the following acts for you to consider:
DALI: is a solo/duo act featuring multi-instrumentalist – vocalist Andrew Turnbull and one other player/vocalist with the possibility of adding other players when required. The act is very flexible and can tap into a wide range of musical genres and possibilities depending on the requirements. The following is a list of the players Andrew is currently working with:
with Auriol Hodgson: Auriol is both a vocalist and accomplished saxophone/fiddle player, so the musical possibilities include Jazz, Bluegrass, Folk, Americana, Celtic, Latin, Pop and more. If you want cool Jazz or acoustic renditions of classic songs from the 60's to 90's then look no further.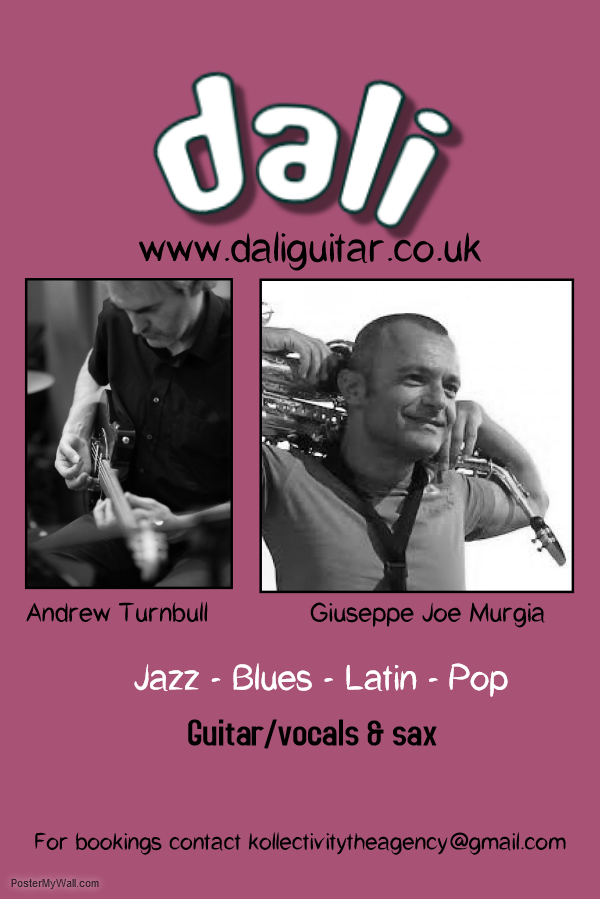 with Giuseppe Joe Murgin: Joe is a conservatoire-trained musician and excellent alto sax/flute player.
With the possibility of backing tracks or loops, this act can cover a lot of ground – whether it is cool sounding Jazz, Latin, Fusion, Pop, classic hits or even something danceable then this might be your choice.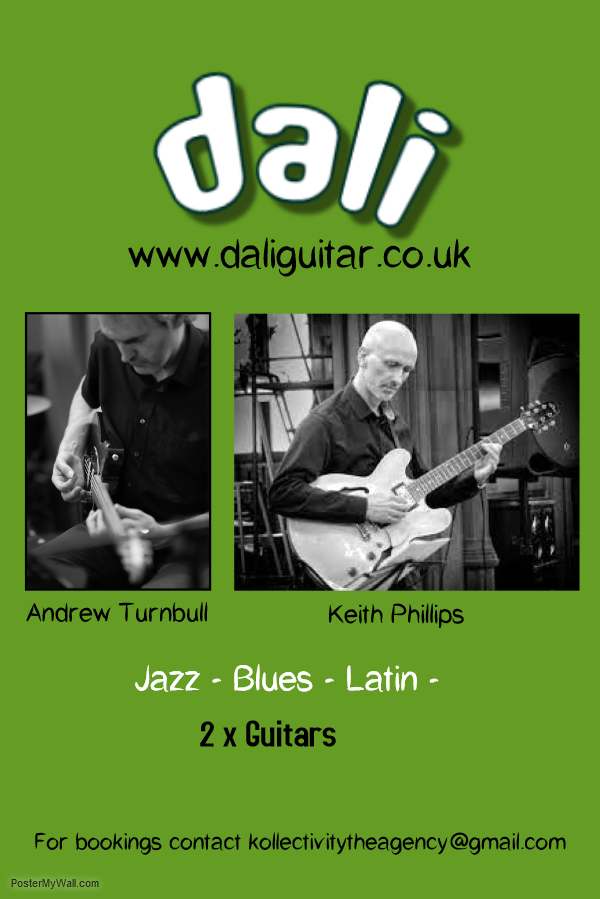 with Keith Phillips: Keith is an accomplished Jazz/Fusion player. This is a guitar duo that is low key and fits well in any background situation – wine bar, coffee house, cafe bar, hotel, cocktail bar. This is chilled out music to relax too – for intimate places. The duo doesn't take up a lot of room.
DGK: has two components to it depending on the scale of operation. Players belong to the KOLLECTIVITY pool and can be called upon to fit any musical requirement.

DG-KOMBO: is a band consisting of 3 to 8 players typically and is able to cover both instrumental and vocal music for dance and concert requirements. Whatever the style – whatever the budget – whatever the occasion. Blues, Rock, Jazz, Pop, Indie, Soul, Funk and lots more…
DG-KOLLECTIVE: goes from small big band to big band and cover a lot of dance/concert style music, both instrumental and vocal. Always features a our piece rhythm section of drums, bass, guitar and keys with any number of horns (from 4 to 13+):Trombones, Trumpets and saxophones are standard with the possibility of additional instruments such as clarinet, Flute, Flugelhorn etc…