DGKollective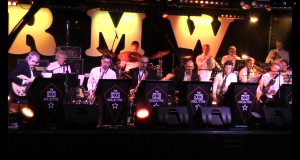 DGKollective is a modern ensemble comprising rhythm section (drums, bass, keyboards, guitar) and horns (Brass and woodwind) and ranges from the small big band to big band formats depending on the requirements. The ensemble caters for dance and concert style performances and is flexible enough to be able to offer a tailor-made musical program to meet any requirement. This includes Swing, Jazz,  Latin, Ballroom, Library Music (TV and film soundtracks) and much more.
Contact Kollectivity to discuss your musical requirements and how the band can deliver them to meet your budget.
DGK live at the LMRCA Club in Altrincham: October 20th 2019.
live audio recordings
Go Daddy O – live recording at Penrith 16.9.17
Bandstand Boogie – live recording at Moffat 24.4.18
Mr Anthony's Boogie – live recording at Penrith 16.9.17
Take the A Train – live recording at Moffat 28.4.18
Peter Gunn – Live recording at Moffat 28.4.18
Tiger of San Pedro – live recording at Moffat 28.4.18